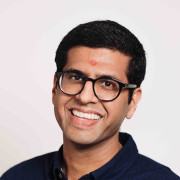 I'm Bhavya — a digital product designer with 5 years of experience. I am deeply committed to harnessing design to create positive change. Originally from Auckland, New Zealand, I now call Canberra, Australia home.

I'm currently a Product Designer at Crimson Education, having majorly contributed to key areas such as Crimson Global Academy, Crimson Consulting, and my current focus, Revision Village. Leading design for a platform used by 80% of IB students globally, I feel humbled and driven to create an impact on their learning paths. Collaborating with developers, stakeholders, and users, I strive to craft efficient, user-friendly solutions that sustain the ongoing success of these educational platforms.
Before Crimson Education — I was the first digital design hire at Hula (Uno Loco). I led all of Hula's digital design output. From EDMs to microsites, to web applications. I played a major part in scaling the design team's technical output and gave the company a strength they could never before boast to clients. I'm privileged to have worked with brands like Fonterra, NZMP, Coca-Cola, Bayleys, Kiwibank, and Woolworths NZ.

Freelancing
I don't freelance a whole lot, but I'm always open to interesting projects. Some of these include developing a site for Form & Function, through whom I also got the opportunity to build a site for the "I See Me" educational study conducted at the University of Auckland.

Volunteering
When I'm not immersed in work or enjoying moments with my family, I volunteer at the BAPS Swaminarayan Sanstha temples across Australia and New Zealand. In the capacity of a photographer, videographer, and editor, I help capture our history through an array of festivals, conventions, and broadcasts. As the video and photography lead at the Auckland temple, I oversaw a team of 5 members. Additionally, I facilitated engaging photography and editing workshops, attracting participation of up to 35 people. From time to time, I also create digital solutions such as creating a registration website for up to 540 participants at a convention.
---
Let's create some amazing together